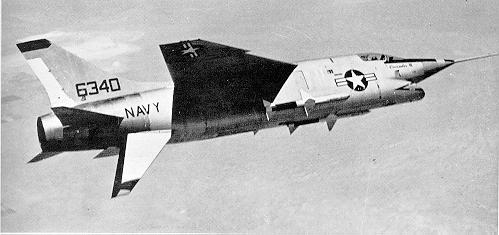 U.S. Navy Photo
For an excellent "Super Gator" report with color photos, visit the Vought Heritage Museum's website.


The F8U-3 Super Crusader
One Pratt & Whitney J75-P-5A/6 turbojet, 16,500 lb.s.t. dry,
29,500 lb.s.t. with afterburning. 

Maximum speed 1457 mph (Mach 2.21) at 50,000 feet, 800 mph 
(Mach 1.05) at sea level. Cruising speed 575 mph. Stalling 
speed 154 mph. Initial climb rate 32,500 feet. 

Combat ceiling 51,500 feet, service ceiling 60,000 feet. Combat 
range 645 miles. 

Maximum range 2044 miles. Maximum fuel 2036 US 
gallons. 

Weights: 21,862 pounds empty, 32,318 pounds combat, 37,856 
pounds gross, 38,772 pounds maximum takeoff. 

Dimensions: wingspan 38 feet 11 inches, length 58 feet 8 inches, 
height 16 feet 4 inches, wing area 450 square feet. 

Projected armament was to have been four 20-mm cannon plus three 
air-to-air missiles carried in slots cut into each lower side of
the fuselage and on the fuselage belly just behind the forward 
landing gear.



Sources:



Vought F-8 Crusader, Peter Mersky, Osprey, 1981.



The American Fighter, Enzo Angelucci and Peter Bowers, Orion, 1987.



United States Navy Aircraft Since 1911, Gordon Swanborough and Peter
M. Bowers, Smithsonian, 1989.



Ray Wagner, American Combat Planes, Third Enlarged Edition, Doubleday, 1982.





(Joe Baugher)


------------------------------------






  Max speed was never determined, as 

the canopy would overheat and begin turning opaque at 

about 2.6 mach; test pilots felt that mach 3.0 was easily 

attainable, based on the acceleration still evident at 2.6.  

     The Super Crusader lost out in a flyoff with the

F4H, which had 2 engines and a crew of 2.  Pilots

who flew both thought the F8U-3 was a delight to

fly, while the F4H was "trucky".  





     Oh, well, it didn't have any guns, anyway.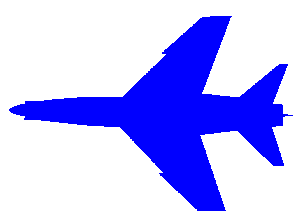 Return to Main Page