LACB29 Was a Blast!
The party's over but the memories certainly aren't. We had a great turnout which made it one of the best ever.
A few people had to drop out at the last minute, but almost 150 F-8 drivers were there. Including their ladies and guests we had over 330 people participating in the various events. Amazingly, we had 48 drivers attend who had not been to an LACB lately. Plus, there were a half dozen in attendance who had never been to an LACB before! It was great.
The ready room was the center of activity and Skip Leonard and his volunteers kept the adult juices flowing. Old friends not only renewed acquaintences, but made some new friends in the process as well.
The squadron dinners Thursday night were a spectacular success. VFP-63 and VF-191 topped the charts with over 40 drivers and ladies in attendance. A great job by all of the leaders who organized them.
Friday morning golf sported a robust crew hitting the links bright and early. Thanks to Jim Ozbirn for putting it together.
Friday night's Gunfighter Reception was just a great big WOW!!! The Mariachi Band was a wonderful treat. They just don't get any better than that. Enjoying a Mariachi Band playing live on the Cinco de Mayo was indeed special.
Saturday was busy but especially rewarding in spite of the wet weather. The memorial wreath we placed in the water from the Midway was a heart-felt event. Those memories will live for a long time.
And then the Saturday night Ball. What a wonderful evening. High winds outside but a warm time inside. Mary Buonaguidi's slide show brought back some wonderful memories. The young color guard, the DJ, everything came together to make it a perfect night. And when it came dance time, you wouldn't believe how those geriatrics could dance. The dance floor overflowed! And when they wore out, they flooded into the ready room for night caps and goodbye's well past the midnight hour.
We owe a special thanks to the LACB29 Committee for putting it all together and especially to our event planner, Mary Buonoguidi. The committee members: Dennis Bell, Dave Cowles, Dick Evert, John Holm, Skip Leonard, Norm McCoy, Nigal Miller, Jim Ozbirn, Bob Pearl, Pete Phelps, Chuck Schroeder, and Mike Waldron. Kudos for a job well done. And another special thanks to the wives who checked us in and kept the ready room snacks flowing: Dru Cowles, Norma Morgenfeld, Dede Ozbirn, Gay Pearl, Joyce Schroeder, Bernadine Swartz, and Dee Unruh. It wouldn't have worked without them. Thanks to all.
Tons and tons of photos are now posted on the web. Just click here. Our photographer R.J. made the rounds at all of our major events. Skip Leonard and others clicked away in the Ready Room. Several people captured scenes at the squadron dinners. Thanks to everyone for preserving the memories. The photos are in a gallery form. Browse through the galleries. When you find a photo you like and want to see more detail or want to have a copy of it, just click on it to display a print-quality version that you can download and print. Happy viewing!
Who are we?
The Gunfighters
The F-8 Crusader was the last U.S. fighter designed with guns as its primary weapon. U.S. fighter aircraft are once again being fitted with guns, largely due to the Vietnam airwar experience. Missile-only aircraft were at a distinct disadvantage in the environment many thought passé --- the dogfight. The Crusader with its guns, and Crusader drivers well versed in dogfighting, led to a resurgence in gun-equipped aircraft, and a renewed emphasis in ACM -- Air Combat Maneuvering.
The F-8 Crusader Association was formed to ensure we continue the long tradition of annual get-togethers and to renew the bonds which tie those who flew that magnificent fighter aircraft. The association is a non-profit corporation whose purpose is to provide a real-time organization to keep track of and facilitate communications between those in our Crusader family.
In addition, the association collects and archives stories and photos from those who flew the bird. Our goal is to make this treasure accessible.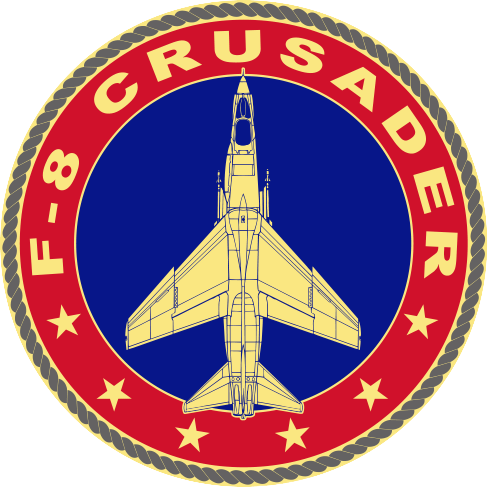 ©